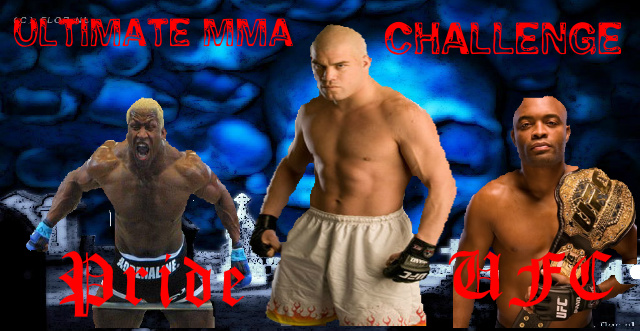 Ultimate MMA Challenge
Birth of the UMC (8/17/11) Players compete in UFC 3. League consists of MW/HW in both Pride and UFC Stock fighers only. We will be workig on Insta-CAF K1 in the WW division soon.

I want to say Thank You to everyone that has been recruiting and competing in our league. We have grown so quickly we are currently looking for new staff members. We are currently competing in UFC/Pride MW and HW and will be starting up Pride LW next week (8/17/12).
| # | Avatar | Username | Humor | Join date | Last visit | Posts | PM | Website |
| --- | --- | --- | --- | --- | --- | --- | --- | --- |
| 1 | | dswhitehead06 | | 2011-08-18 | Thu Sep 01, 2016 7:56 am | 41 | | |
| 2 | | Darph Bobo | | 2011-10-20 | Sat Apr 18, 2015 3:23 am | 11 | | |
| 3 | | XTREME SUASAGE | | 2012-08-31 | Fri May 10, 2013 3:15 pm | 5 | | |
| 4 | | TruePain2011 | | 2011-08-18 | Thu Jan 17, 2013 3:38 pm | 51 | | |
| 5 | | fulcrumpointftt | | 2012-09-07 | Tue Jan 08, 2013 8:23 pm | 3 | | |
| 6 | | Boomboom | | 2012-09-15 | Wed Dec 05, 2012 7:48 pm | 7 | | |
| 7 | | tatanka soldier | haha | 2011-08-18 | Wed Nov 21, 2012 1:00 am | 10 | | |
| 8 | | farhaanmansoor829 | | 2012-11-20 | Tue Nov 20, 2012 1:13 am | 0 | | |
| 9 | | KingPsycho87 | | 2012-11-08 | Mon Nov 19, 2012 4:11 am | 3 | | |
| 10 | | Bunter10 | | 2011-08-17 | Sun Nov 11, 2012 1:20 pm | 143 | | |
| 11 | | King Clarke1 | | 2012-09-15 | Fri Nov 02, 2012 1:30 am | 2 | | |
| 12 | | erikb_559 | | 2012-08-23 | Tue Oct 23, 2012 8:09 pm | 5 | | |
| 13 | | lBOSSMAN x G x | Your momma is sooo... | 2012-09-15 | Sat Oct 20, 2012 6:30 pm | 0 | | |
| 14 | | luk1n | | 2012-08-28 | Wed Oct 10, 2012 9:38 am | 2 | | |
| 15 | | Th3Elite | | 2012-09-22 | Sat Oct 06, 2012 1:51 pm | 0 | | |
| 16 | | Daswagga617 | | 2012-08-08 | Mon Sep 24, 2012 4:16 am | 0 | | |
| 17 | | FreeMyWiiliee | | 2012-09-17 | Fri Sep 21, 2012 11:10 pm | 0 | | |
| 18 | | WhatxThexFithen | | 2012-09-03 | Thu Sep 20, 2012 2:16 am | 2 | | |
| 19 | | DutchMaster3 | | 2012-08-04 | Mon Sep 17, 2012 4:35 pm | 5 | | |
| 20 | | Spanxdat1128 | | 2012-09-12 | Wed Sep 12, 2012 11:48 pm | 1 | | |
| 21 | | Jamesemy | | 2012-08-31 | Wed Sep 12, 2012 9:27 pm | 1 | | |
| 22 | | ElCreepyCrud | | 2012-09-12 | Wed Sep 12, 2012 5:57 pm | 0 | | |
| 23 | | villian825 | | 2012-09-08 | Mon Sep 10, 2012 9:43 pm | 0 | | |
| 24 | | metal0head0dan | | 2011-08-21 | Mon Sep 10, 2012 5:52 pm | 0 | | |
| 25 | | nigamoteef | | 2012-08-15 | Sat Sep 08, 2012 1:52 am | 0 | | |
| 26 | | Wayne1456 | | 2012-09-05 | Fri Sep 07, 2012 9:00 pm | 0 | | |
| 27 | | Behemothuibi | | 2012-09-05 | Wed Sep 05, 2012 12:26 am | 0 | | |
| 28 | | ekomss | | 2012-09-02 | Mon Sep 03, 2012 11:33 pm | 1 | | |
| 29 | | xxMAN83ARPIGxx | | 2012-09-02 | Sun Sep 02, 2012 5:50 pm | 0 | | |
| 30 | | juschiln21 | | 2012-08-15 | Tue Aug 28, 2012 1:42 pm | 3 | | |
| 31 | | GET_EM | | 2012-08-26 | Tue Aug 28, 2012 7:55 am | 3 | | |
| 32 | | zXGreatnessXz | | 2012-07-31 | Mon Aug 27, 2012 1:29 pm | 3 | | |
| 33 | | Mathiys | | 2012-07-31 | Mon Aug 27, 2012 12:48 am | 16 | | |
| 34 | | ThuggishGeep | | 2012-07-19 | Sun Aug 19, 2012 8:45 pm | 3 | | |
| 35 | | RJJUSTCHILLIN | | 2012-08-16 | Sun Aug 19, 2012 3:31 am | 0 | | |
| 36 | | Sadistik | | 2012-08-06 | Wed Aug 08, 2012 5:34 pm | 0 | | |
| 37 | | HP FLOPPABRO269 | | 2012-08-08 | Wed Aug 08, 2012 4:15 am | 1 | | |
| 38 | | shotgun gaz | laughs at modders. | 2011-08-28 | Sun Aug 05, 2012 6:05 pm | 1 | | |
| 39 | | Davis420420 | Nerd..Geek | 2012-08-03 | Sat Aug 04, 2012 4:51 pm | 0 | | |
| 40 | | Goonie | | 2011-08-18 | Fri Aug 03, 2012 10:42 am | 1 | | |
| 41 | | IR3DRUIVI | | 2012-08-02 | Fri Aug 03, 2012 12:00 am | 2 | | |
| 42 | | jakethedog | woof | 2012-07-31 | Tue Jul 31, 2012 8:01 pm | 1 | | |
| 43 | | rampage760 | | 2012-07-31 | Tue Jul 31, 2012 7:16 pm | 1 | | |
| 44 | | smp jonesey smp | | 2011-11-08 | Wed Nov 09, 2011 1:17 pm | 0 | | |
| 45 | | Joker | | 2011-10-15 | Sat Nov 05, 2011 8:43 pm | 2 | | |
| 46 | | Narzat | | 2011-09-18 | Sat Oct 29, 2011 12:40 am | 0 | | |
| 47 | | ol rusty dagger | | 2011-09-18 | Wed Oct 26, 2011 5:07 pm | 0 | | |
| 48 | | Doctor No Bueno | | 2011-08-21 | Wed Oct 26, 2011 6:45 am | 0 | | |
| 49 | | asmxmmaxmonstax | | 2011-10-25 | Tue Oct 25, 2011 7:44 pm | 0 | | |
| 50 | | Tigger Locc23 | | 2011-08-18 | Thu Oct 20, 2011 12:59 pm | 6 | | |